Behind "The Simpsons Sector" there is: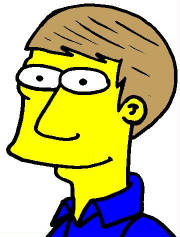 IVAN
(aka "me")
I live in Australia and I absolutely love the Simpsons. I have no idea what I would do if they ever stopped making them (although I believe it would involve me hitting my head repeatedly on the computer table after reading it on The Simpsons Channel going "why...why me? Take Family Guy, but not Homer!"). For more information on the site, visit the Site History page.
Favourite Character: Homer
Favourite Episode: Tie between "Simpsoncalafragilisticexpiala(ANNOYED GRUNT)cious" and "The President Wore Pearls"
Favourite Season: Nine
My Hobbies...
My hobbies include watching the Simpsons (before going to school), watching a two hour marathon of the Simpsons (after going to school), reading the Simpsons (whenever I'm not allowed to watch the Simpsons), and drawing the Simpsons (especially when I don't like paying attention to teachers). The picture below IS a dramatisation. And it IS a true picture of mine (yes, I have drawn that FREEHAND without the boxes and the circles and the -gahoyven!-...ohmigosh I really am turning into a Simpsons nut. My first published work was a picture that was in the Australian version of Simpsons Comics #95, and my second was a letter which I emailed to the actual American Bongo Comics building, and they ran my letter worldwide in every version of Simpsons Comics #113! Anyway, I've basically said everything there is to know about my sad life, except for my drum kit, my love of swimming and tennis, the countless Futurama episodes that I count as all time favourites, my weird psycho cat Claude, and how I forgot to close the blinds this morning, causing the glue in the binding of my Simpsons Forever book to slightly melt. All that is for another time.