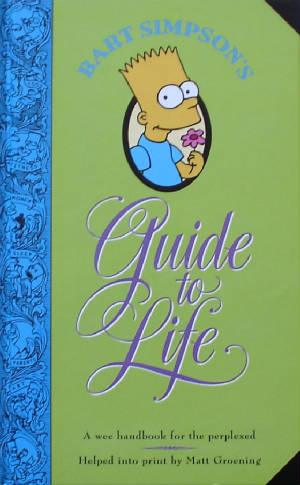 Bart Simpson's Guide To Life
"Starved for the whole truth, man? Take a bite out of this bitsy but beefy package, brimming with flavourized morsels of wit, wisdom, and worldy knowledge brought to you by the one and only Bartholomew J.* Simpson ~ get the hard-knock facts of life from the guy who's seen it all, heard it all, done it all ~ and denies it all."
My opinion
Wow. I don't remember a lot of the books I read when I was younger, but this is actually one of those that I can remember. Unfortunately I had to borrow it from the library. It was first published in 1993, so it's taken 13 years for me to actually end up buying my own copy, and it's amazing how much of the stuff in it has actually stayed with me since I first read it about eight years ago. For those who have the new "Simpsons Library of Wisdom" books featuring Bart, Homer, Ralph, Comic Book Guy, and soon, Lisa and Krusty, this is basically a super deluxe edition of those books. The jokes start on the very hardback cover of the book, which tells us it's a "wee handbook for the perplexed", and that the book's Nutritional Information is: "Serving size: 192 pages, plus cover; Number of servings: 1; Contains less than 2% of the minimum U.S. RDA of niacin and riboflavin. Contains 100% of your daily fibre requirement (served with whole milk)." And no, that's not yet the end, as it also lists a recipe: "Paper, glue, process inks (cyan, magenta, black, yellow), cardboard." Opening it up, it's printed on nice thick glossy paper. There's a small introduction from Bart, which has a joke which carries on through the book that "the person who stole this book will be personally hunted down by myself." There is also the "for the meaning of life turn to page ***" throughout it too. The content in this is absolutely amazing: it features sections on School, Food, Health and Fitness, Work and Money, After Hours, Parents, Art and Culture, Science, Language and Communication, Animals, Sex, Psychology, Law and Order, Xmas, Strange Facts, and Religion. Some of the pages include a diagram of Principal Skinner, which is titled "Aliens! They Walk Among Us!", a guide to what to take for Show and Tell, a little guide to cooties, as well as Heaven vs. Hell, Body Language, Bart's Laws, Fun Food Facts, What's On Your Parent's Mind?, Annoying Questions To Ask Your Teacher, and a lot more. The only pages that I don't really enjoy in this book (and when they appear in the Library of Wisdom books) is the ones where it has a picture of a room or house with everything labelled with numbers, and you personally have to find each number to know where everything is. Apart from that, I find this book very, very, very enjoyable, and I'd recommend it as one of the first books you should buy about the Simpsons.
*(The "J" stands for "jenius.")